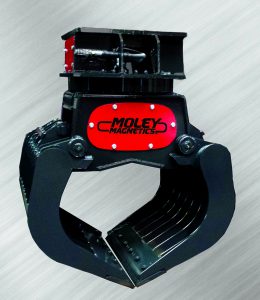 Moley Demolition Grapples now at Accudraulics.
Moley Demolition Grapples are heavy-duty units designed for applications involving demolition of non-concrete structures, material handling at recycling and waste transfer facilities, site cleanup and loading construction or demolition debris.
Moley Demolition Grapples are durable and long-lasting because they are constructed with HARDOX and WELDOX certified steel. The rods are chromium-plated and hardened and the hinges are made of hardened steel alloys. The tips of the blades are made of special wear-proof steel.
These grapples are robust, built for the demands of the demolition industry – all sizes available to fit as small as a 3 ton up to a 45-ton machine, various jaws/tines available with bolt-on replaceable teeth.
Accudraulics is where you find Moley equipment in Manitoba and Saskatchewan – an authorized service and sales center for Winnipeg, Regina, and Saskatoon.