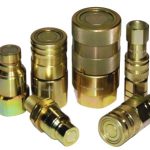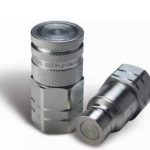 Stucchi – Series "A" Premier ISO 16028 Interchange Couplings Flat Face
"A" Series or Premier Series offers higher pressure ratings, superior flow ratings, lower pressure drop compared to FIRG Series or competitors products.
Applications:
Flat Face couplers are specifically designed for applications needing no-leak performance. The mating faces are easily cleaned before connecting, making it the ideal solution for limiting contamination in hydraulic circuit. The design allows applications involving high pressure impulses in agriculture equipment, mobile construction equipment and general industrial plants. Non-Spill design avoids fluid loss in connection and disconnection.
Options:
Seals: Viton, EPDM, Kalrez
Threads: NPT, SAE, ORFS, JIC
Multiple mounting options
  [tab title="features"]
Seals: Nitrile and Teflon anti-extrusion
Nipple: hardened steel reduces brinnelling
12 to 20 balls to increase the male bearing points & decrease the brinelling effect
Modular structure for multiple port option
Lock system stops unwanted disconnect
Exceeds impulse test of ISOA-7241 test